Hanoi Trang An Boat Tour & Hoa Lu 1 Day
Hanoi Trang An Boat Tour, Hoa Lu Ancient Capital only in one Day Adventure Tour daily departure from Hanoi. It takes you to an area of outstanding natural beauty with limestone peaks and the centuries-old capital of Vietnam. From Hanoi, a leisure boat trip passing towering limestone karsts covered by lush plants along Trang An River will definitely make your tour to Trang An and Hoa Lu a truly memorable experience.
Highlights of 1-day Hanoi Trang An Boat Tour – Hoa Lu Ancient Capital
Trang An Boat Tour  at the UNESCO World Heritage Site
Discover the magnificence of Trang An Eco-tourism Site
Savor the culinary delights of Ninh Binh province
Gain an insight into the Vietnamese history and the ancient architecture
Experience our day tour Hanoi to Trang An Boat Tour and Hoa Lu Ancient Citadel with
Guides: Hand-pick from our best guides, mature, acknowledge able, all are licensed, great senses of humor
Drivers: friendly, responsible, reliable with many years of driving experience, door-to-door services
Vehicles: comfortable, spacious, air-conditioned, big window
Cozy Vietnam Travel 24/7 customer service, accommodate all your needs
Tour Route: Hanoi – Ninh Binh – Trang An Eco-tourism Site – Hoa Lu Ancient Citadel – Hanoi
Duration: 1 Day
Date: Advice on booking
Start/End: Hanoi/ Hanoi
Tour Category: Hanoi Tours, Ninh Binh Tours
Tour Customization: Absolutely (Tell us what you wish to do in the inquiry form)
Trang An Eco-tourism Site is globally renowned by its natural setting of limestone peaks, evergreen jungles, and vivid emerald water. Recognized as the World Heritage Site in 2014, Trang An is a relic of the Earth's history dating back to millions of years ago. It also considered as Halong Bay on land or Halong Bay in rice fields.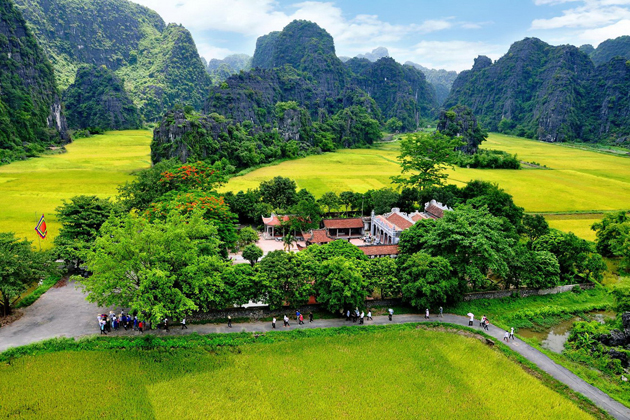 The scenery of Trang An is actually the legacy of karst topography revolution in tropical climate around 250 million years ago. Throughout the time, continuous geological collapses and movements of the Earth's crust formed these charming limestone mountains, enigmatic caves, and the complex waterway system.
Located 7 km from Trang An, Hoa Lu was the ancient capital of Vietnam after King Ly Cong Uan had moved the capital to Hanoi (Thang Long that time) in the 11th century. Hoa Lu witnessed many striking historical events of the country: the union of Vietnam after "12 Lords Rebellion", the war against the Chinese Tong dynasty and the formation of Hanoi. Today, Hoa Lu Ancient Citadel which belongs to Trang An Scenic Landscape Complex is an attractive place that history lovers should not miss out in Ninh Binh Tours.
Trang An in the Morning (L)
Our local tour guide will meet you at 7.00 am at your hotel lobby to start our day tour to Trang An and Hoa Lu. From Hanoi, you are transferred to Ninh Binh by a one hour drive. On arrival, we take a small sampan wooden boat trip slowly rowing through serpentine streams, between the blooming mountains and valleys.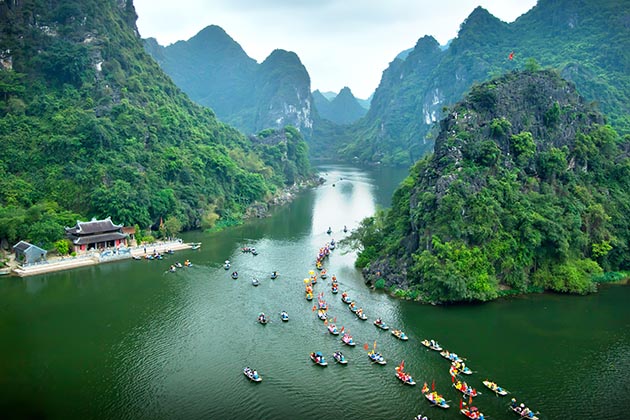 The 3-hour rowing boat takes you to sacred sites and through 12 mysterious water caves. Along the way, there are spectacular transitions as you get into a dark cave and a whole new picture appears right in front of your eyes at the exit. Follow the boat's schedule, you can drop off the sampan boat to visit some on-land attractions.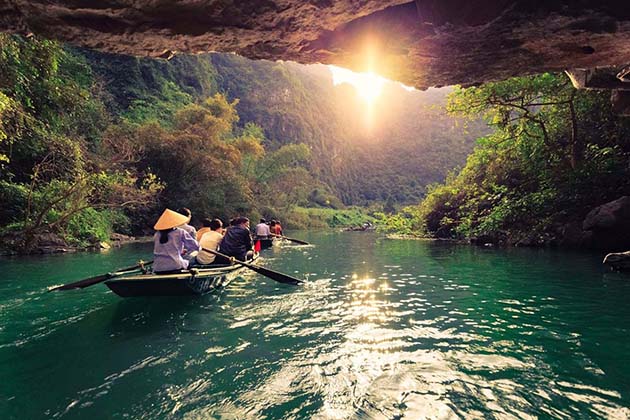 We can enjoy the fresh air, clean and clear water with underwater grass. Experience ourselves the feeling and emotion when we are in the water caves. After discovery in Trang An, we are transferred to a local restaurant to enjoy a tasty lunch which features specialties of Ninh Binh.
After our lunch and taking some rest, we move to Hoa Lu Ancient capital situated 7km from Trang An to continue our day tour in Ninh Binh. Upon arrival, ornate temples that worship the Emperors will catch your eyes at first sight. These temples were constructed to honor King Dinh Tien Hoang, King Le Dai Hanh, and King Ly Thai To. On the site, you are told about the story of the first three centralized feudal states of Vietnam: the Ding dynasty, the Le dynasty, and the Ly dynasty.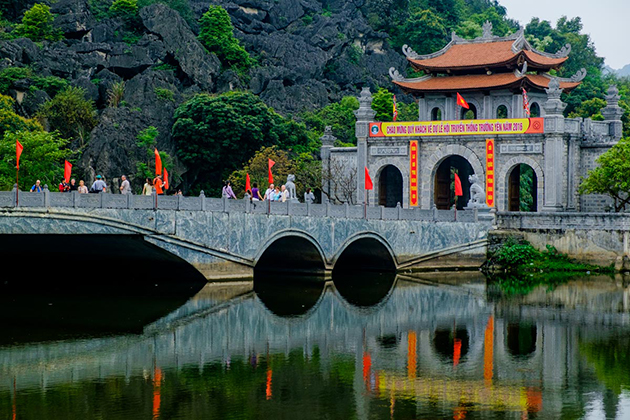 Next, you have the chance to see the ancient fortress built more than 1000 years ago and was a very interesting place to visit. Inside the fortress is marvelous scenery for photo-taking and sight-seeing.
4.00 PM: Drive back to Hanoi and drop off at your hotel. Finish off our day trip to Trang An Boat Tour and Hoa Lu Ancient Capital.
All private transportation and transfers
Sampan trip
English speaking guide (other languages upon request)
Lunch
Admission fees and permits where applicable
Services charges and government taxes
Pre & post accommodation
Personal expenses
Tips and gratuities
Travel insurance
Cancellation by Customer
Cancellation received before 60 days: FREE of charge
Cancellation received from 30 days to 59 days prior arrival date: 10% of total rate
Cancellation received from 15 days to 29 days prior arrival date: 30% of total rate
Cancellation received from 7 days to 14 days prior arrival date: 50% of total rate
Cancellation received less than 7 days prior arrival date or No show: 100% of total rate
Children Policy
The rate for children applicable for one child sharing a twin or double cabin with two adults
For infant (<04 years old): FOC except domestic ticket cost
04 - 11 years old without bed: 50% adult rate
04 - 11 years old with extra bed: 75% adult rate
04 - 11 years old in twin share: 90% adult rate